Various
| | |
| --- | --- |
| Vela Vela! Hot hot! Dances from the South Pacific | PANDVD 207 |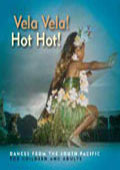 31 dances from the South Pacific for children and adults. For the first time this CD includes dances from Tokelau, taught to us by Te Vaka vocalist Sulata Foa'i. Other new items include a "metal" version of a Tahitian otea (dance type); the Heemskerk Polka-Koru, an intercultural mix of Dutch dancing with Maori elements; Boti Kuru, a slapping dance from the island of Rabi; children's dances from the island of Pukapuka; plus other dance songs from Maori New Zealand, Hawai'i, Niue.The music is partly played by Ka Wela 'Ana and partly by local artists, recorded on the isles.
Booklet (Dutch) - € 16.00.
TRACK LISTING:
Akatangi Kita Te Poti Pukapuka - Aué Aué Tak-u Samala Tuvalu - Away In A Manger Hawai'i - Eleni Samoa - E Loto To Ualeto Tuvalu - E Rangaranga Te I Banaba Rabi - E Suasua Te Niu Tuvalu - Hands Come Down Aotearoa (New Zealand) - Hiki Hula Tuvalu - I A Tia N Tuanga Tuvalu & Kiribati - I Don't Like Shoes Hawai'i - Kana Te Amarake Ae Baranti Raoi Rabi - Kapakapa Pukapuka - Katauraoi 0 Mitinikan Rabi - Ko Solo Te Panikeni Tuvalu - Lakau 0 Te Vao Tuvalu - Malie Tanifa Samoa - Meke Ki Runga Aotearoa (New Zealand) - Me Urake Tuvalu & Kiribati - Number Song (The) Hawai'i - Pa Teliga Niue - Patiri Rapanui (Easter Island) - Po Lima 0 Toku Fenua Tuvalu - Pulou Pepa/Barau Te Beba Tuvalu/Rabilthe Netherlands - Pupu Hinuhinu Hawai'i - Sasa Nukufetau Tuvalu - Sasa Palagi Samoa - Simoa Simoa Tuvalu - Tagata E 'Sali Kaleve Tuvalu - Tagi la Lorne Sarnoa - Taba, Ua, Tolu, Fa Tonga - Takatu Takatu Tokelau - Tasi Lua Tuvalu - Tasi Mo Te Tasi Tuvalu - Tatou Tatou Tuvalu - Tauaki Te Tagata Tuvalu - Te Manu Taigole Luga 0 Te Lakau Tokelau - Te Va'ine Manea Cook Islands - Tikitiki Ta Pukapuka - Totó Ai Fale Tuvalu - Tui E Sarnoa - Tuki Tuki E Fua Tuitui Niue - Tuki Tuki Tuki Tuvalu - Tu Tu 'Uga Ma Tu (Hiko) Rotuma - Ulu, Tak-uau, Tulivae, Tatnavae Tokelau.
Product not available
| | |
| --- | --- |
| | You can order material by phone or by E-mail. We garantee a quick delivery. Payment should be done after delivery (in €, US $, GBP) |